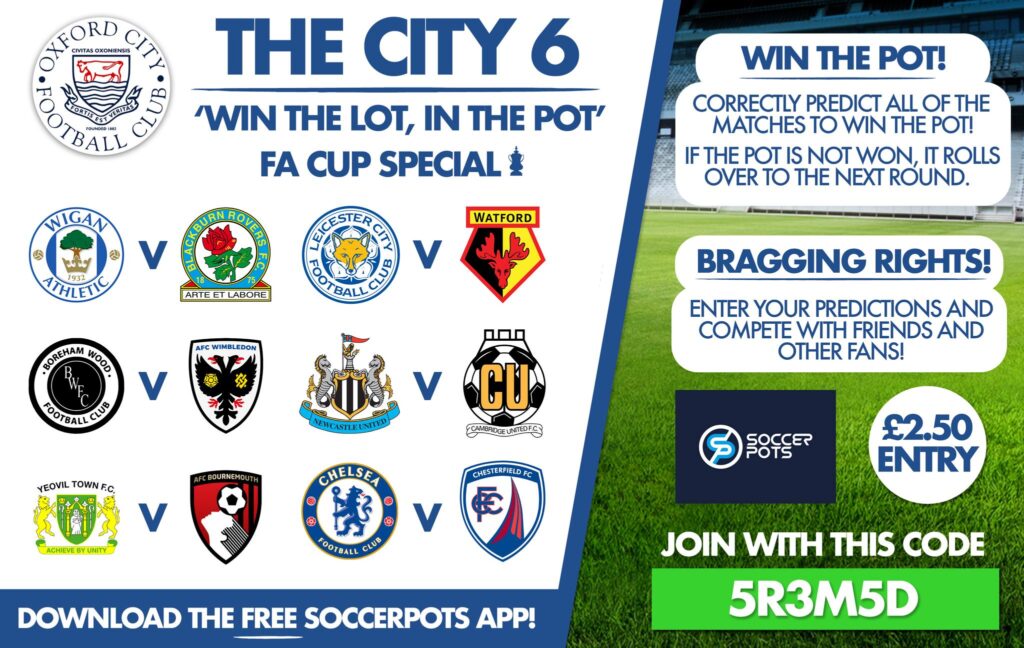 Oxford City are delighted to announce the launch of 'The City 6' weekly match prediction competition in association with SoccerPots.
The City 6 is a Player Vs Player betting league, each week there will be six pre-selected weekend games on the SoccerPots App – You choose: home win, draw, or away win – if you get them all correct you will win, or share, the prize pot. In the event of no winner, the pot simply rolls over to the next weekend.
Simply DOWNLOAD the FREE SoccerPots App in Google Play Store or Apple Store, enter your details and select to 'JOIN A LEAGUE' then enter the code 5R3M5D.
This will add you to the 'The City 6' league, where, each week, you enter your predictions ahead of kick-off.
Each entry costs £2.50, with the proceeds being split between the Club and successful participants. All profits from this will help us continue to fund our many community projects, as well as giving you a chance to win if you can correctly predict the outcome of six football matches each week.
If you win, funds will be automatically transferred into your account.
Download the App and Join Today – You Could Be A Winner!