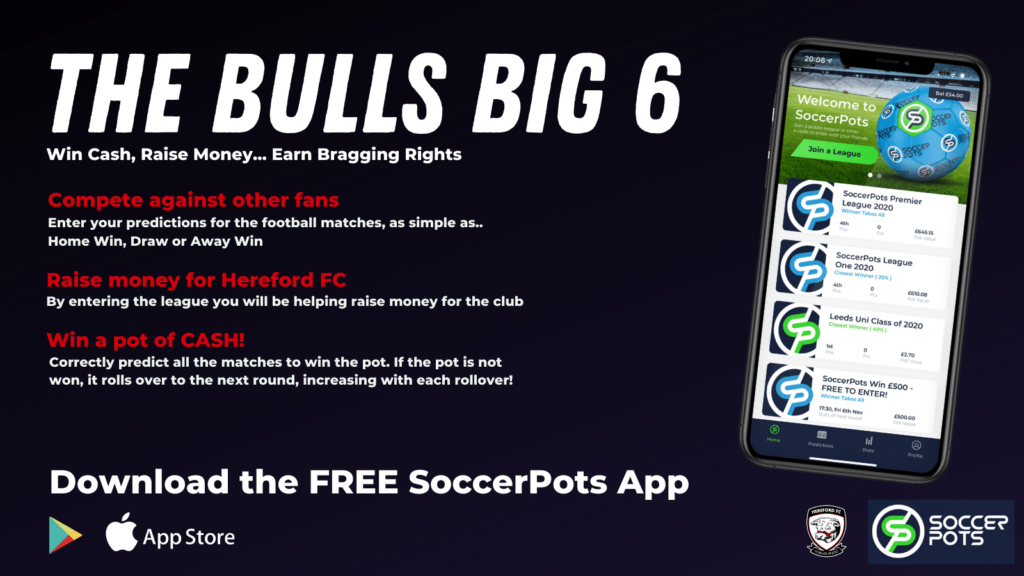 Hereford FC have started a SoccerPots Affiliate League to help boost thier budget for the first team this season (21/22). They have launched a weekly competition called 'Bulls Big 6'.
Details can be found here on the Hereford FC website – https://www.herefordfc.co.uk/club-news-hereford-fc-launch-bulls-big-6-competition/
All profits from this will be added to the 'Boost the Budget' fund for the first team, as well as giving the fans a chance to win if they can correctly predict the outcome of six football matches each week.
Each entry costs £2.50, with the proceeds being split between the Club and successful participants.
The selected games could come from the Premier League, Football League or even the National Leagues so plenty of scope to test the fans skills at predicting outcomes.
The Hereford FC share of the proceeds from 'Bulls Big 6' will be added to the 'Boost the Budget' fund
Please get in touch if you would like to start a SoccerPots Affiliate Scheme with your football club.