As we approach the launch of the SoccerPots App, we thought it would be a great time to reflect on how we got here and the steps we took along the way. How we overcame the many obstacles that stand in the way of start-up businesses, especially in the gambling/betting industry. It's an industry which tends to be only for the big players who are geared up to make as much money as possible, and are rarely on the side of the players themselves. We wanted to make something which would allow the players to 'win big' whilst not taking huge slices of profit.
We have developed this brand to resonate the image of fairness and transparency in football betting whilst bringing on board a social aspect. Something which is even more important today compared to when we started back in September 2018.
Social betting is a very simple concept, it's not overly complicated and anyone (who is old enough) can join in and take part in the guaranteed banter and win bragging rights along with a pot of cash!
September 2018 – A simple idea
Like a lot of ideas, it started as a simple thought… this one came from our founder's wife, the best ideas are always from our wives, right?
From that moment on, the idea started to cultivate from not only how the app could be used by the people involved at work, but how other groups of people could also use it, people outside of the organisation, everyone with a smart phone! How it could be used by friends, colleagues and family and how everyone could stay connected no matter where they are. The idea was that the app could spread virally with multiple players and managers expanding the user base organically through reputation alone.
So what was the original idea, the starting point…
Well, you probably all know the kind of thing, a paper-based football sweepstake – everyone predicts the results from a series of football games and the winner scoops the pot. No winner and it's rolled over. Or the pot is shared out amongst the participants with the highest points.
We've all probably taken part in these. Personally, I've done many of these over the years in offices. My Dad used to run one where he worked to raise money for the factory football team. It's a great and fun way to take an interest in football and enjoy some banter with your friends and colleagues along the way. Oh, and maybe win some money (which in our experience is normally the person with the least experience of football!).
One of our main criteria for the app was 'How can we make this fun social activity easy and simple for the organiser?'. From that point on we started a journey that ultimately brought us to a App. Whilst the App is simple it digitally recreates the paper based version we all know but with a number of ways to make it more engaging and configurable for the players and the organisers… or managers as we like to call them.
A community based game
From the beginning, we were most interested in the community aspect of the game. People spend a lot of time at work and the office sweepstake is a nice way to take the pressure off and enjoy some banter with colleagues. If your sweepstake lasts over a few weeks then its great fun seeing the pot grow and grow, we have even had them into the thousands sometimes. This in itself can lead to issues with keeping the money in a safe place so we wanted to make sure SoccerPots was easy and simple for the manager.
Outside of work we also belong to other groups – clubs, hobbies and sports – so there are even more opportunities to build relationships with people through SoccerPots by getting people you know involved.
September 2018 – an idea starts to evolve
We started to think about how the app would work – designing the concept on paper first and talking to app developers to gauge the complexity of the job involved. We had inhouse technical knowledge so we utilised that as much as possible when it came to developing the overall concept. We understood how API's worked, how apps talked to app servers, how third parties could be integrated, how payment gateways could be introduced and importantly how security could be maintained when presenting the app to the world.
App functionality design
From our initial ideas we needed to break down the process of how this would work in practical terms. This was pretty straight forward and we took the paper-based process and simply worked through how that would work digitally. It went something like this:
| | |
| --- | --- |
| Office paper-based sweepstake | SoccerPots App |
| Write on a piece of paper 'Office Sweepstake' | Open a Pot and name it 'Office Sweepstake' |
| List out the football games involved, checking multiple leagues from multiple countries over a number of days – by hand | Select the games from a digital list of fixtures grouped by league and ordered by date |
| Give the sheet to the first participant | Send the Pot link to friends electronically |
| Ensure the sheet gets to all pllayers | People make their selections in the App |
| Collect everyone's money | People pay the money in the App |
| Analyse the results and add up everyone's total | Automatically done by the App |
| Identify the winner | Automatically done by the App |
| Take the winnings to the person | Automatically done by the App |
This was basically the process but it's quite time-consuming doing this on paper, whilst always trying to prevent human error from occurring.
To create the App, we needed to brain dump all this information into charts and specifications.
For example, if the game is to be 'rolled over' if no winner is found how would this work in an App? What if we have multiple winners, how is the pot distributed?
Could late joiners join the league, how much should they pay?
Can predictions be changed once entered?
If a payment is declined what happens in the App to take the payment again?
We also needed to undertake lots of investigation around how the process could be automated. For example, how the App can automatically tap into football fixtures from various leagues and the results.
This was probably the longest and hardest part of the process – trying to think of every eventuality and making sure how we wanted the app to work was detailed as accurately as possible to ensure the app could be built exactly as we wanted it to run.
Some flow charts of the SoccerPots process briefed into the App developers. Take notes there is a test later!
As with all good quality products, app development is not cheap. We looked into getting backing from the government and EU, Unfortunately this never materialised, as the gambling industry is seen as too risk adverse. We took the idea to local council and governing bodies for new tech start-up businesses in Warwickshire, but again the industry was an issue along with how the local authorities wanted to proceed with our idea, there was no way would have been able to develop our product the way we wanted, too many cooks would have spilt this particular broth!
So we went at it alone, doing as much design as possible, sourcing the most cost effective APIs and negotiating the best deals for from our third parties.
March 2019 Our name changed a few times!
Probably the most fun part in any new business idea is coming up with a name. This must be what it feels like to be in a band? We thought about a few options and for a while we were going to be SocialSoccer6 (inspired by the Football Pools that has a regular 6 game-based prediction game).
We also wrestled with the idea of using 'Soccer' instead of 'Football' and decided on Soccer simply because if we are successful, we want to duplicate the concept into other countries and sports so there's no chance of confusion….. thinking of you Americans here 😊
We also wanted part of the name to reflect what the App is about and so considered SoccerSweepstake which felt a bit clumsy so in the end we decided to use 'Pot' which is actually what we used in the office to collect everyone's entry fee.
And so SoccerPots was born. Once we decided on the name it seemed a really great choice.
Feb 2020 Gambling license
We think of SoccerPots as a 'social' gambling app. By that we mean the social aspect is the fun and purpose of the idea behind the app, rather than winning lots of money beating the odds. Even though this is a fun App to use, real money is still involved, so we still needed to have a gambling license to ensure the players are protected as much as possible by the governing commission. You might feel this is quite a complex and lengthy process. And it is. We originally talked to licencing law solicitors specialising in obtaining gambling licences for companies like ours, after a VERY short and VERY expensive discussion, we soon realised that we should probably have a shot at doing this ourselves.
This actually took two attempts, attempt one was started in March 2019 and we failed, however we learnt A LOT from this process and we took stock and geared up extensively for a second attempt.
We started the second application process in September 2019 and produced a 'bucket load' of documentation, diagrams, credit reports, DBS reports, references, designs, multiple policy procedures and automated 'hooks' into governing body systems which we have integrated, for instance…
GAMSTOP – a centralised system which allows problem gamblers to register once with, resulting in all participating gambling companies preventing the user from accessing their facilities – SoccerPots is a fully qualified participating member.
AgeChecked – a third party system used to determine the age of a Player registering for SoccerPots is over 18.
… we submitted again to the gambling commission 3 months later.
The Gambling Commission were extremely helpful throughout and helped us along the way but it was a key milestone when SoccerPots finally obtaining its Gambling Commission Licence. A very big day in Feb 2020!
June 2020 Trademarking 'SoccerPots'
We needed to make sure we could protect our business brand and trade mark. We thought this might be complex and involve the hiring of specialist lawyers but in the end it was actually one of the simplest things to do. All done online and quickly and for little cost.
Once the trademark was in place we could then secure our website url and handles/addresses for our social media including twitter, Facebook, Instagram and LinkedIn.

August 2020 Payment functionality and Protecting your deposits.
What does Jerry McGuire say? Show me the money. Getting the appropriate banking capability into the app was a long process. Whilst there are easier ways of taking money (PayPal etc.) we wanted to allow our customers to pay using the same methods they use for paying for their shopping or if they get a coffee, whilst remaining as low cost as possible to ensure you get to keep more of your money in the pot.
There is a great deal of regulation and process involved in accessing the global credit and debit card market and, let's be honest, a reasonable fee for retailers to pay for each transaction. Coupled with that the fact we need to have a gambling license meant there were a few hoops to jump through.
Rest assured we managed to secure a deal with Trust Payments to use their payment gateway allowing us to take debit cards in a very secure manner. The SoccerPots app (or backend) does not save/transmit or process your card details. The payment page is cleverly hosted on the Trust Payment servers and the SoccerPots apps simply displays the 'page' through the app. Payments details are only ever processed by Trust Payments.
Above all we want our customers to be confident in the App so there was no question of doing anything else.
March 2020 – Our logo and hiring Littlefish Creative
Next on the list was the creation of our logo. We found local design agency Littlefish Creative right here in Leamington Spa. After an initial meeting to brief in the idea behind the App they presented some initial concepts and we went through the creative process of amending the designs and colours. Here are some of our earlier designs: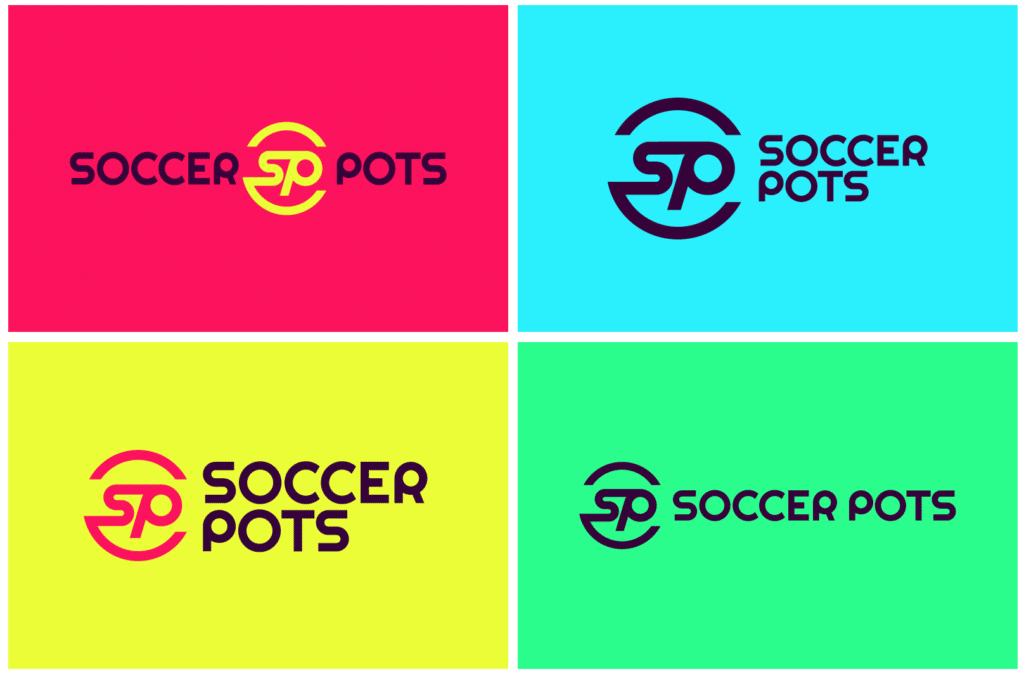 We eventually agreed on this logo:

Once we signed off on the logo we wanted to come up with a description or 'strap line' for the App so people could get a good idea of what the App is about just from a simple graphic or logo.
We started with a long list of ideas and also looked at what other football and betting organisations were doing. Here are some of the ideas we considered:
Putting the social into football betting
Social betting online
Social football betting
The only way to bet online with friends.
Taking football betting online
Socially distanced betting
Be social without leaving home
Become a social winner
Become a winner amongst friends
Where friends socially bet
We eventually decided on:
BET WITH YOUR FRIENDS…. WINNER TAKES ALL!
Now we had an agreed logo design and strapline Littlefish could design our digital headers for all our social media. They cleverly incorporated the logo into a football to make for an eye catching and impactful creative representation of our brand.

June 2020 Marketing Director on boarded
We asked Littlefish Creative if they knew anyone who could help with marketing and they recommended a marketing consultant they know Jonathon Bright. As well as an experienced marketing professional, he's familiar with the gambling industry and an Aston Villa season ticket holder. We decided not to hold this against him though and were delighted when he joined the project.
2019 and throughout 2020 – App design, build and hiring Apps Plus
The next stage was to get the App designed and built. It was crucial to find a company to build the App and were lucky to find a local company in Coventry called Image + . After our first meeting we knew we had made the right choice, their passion for football was matched with ours and with their App expertise we knew the product would be produced just as we envisaged it.
Image + began designing the App from the functional specification we provided, they constantly kept us in the loop with design ideas and concepts. We refined the process flow and API's with Image + and any changes required have always been done swiftly, professionally and to specification. Image + had a real grasp of the customer journey from the start and this has led to a quality product that's easy and intuitive to use.
Towards the end of the development cycle the app has been living and breathing in our hands, we have been trying to use it on as many phones are possible in order to get consistency across the board.
Some early App screen designs
September – December 2020 UAT, refinement, marketing
We are currently fully involved in UAT (User Acceptance Testing) which basically means the app is being tested by various people in a live environment. It's hosted on a test platform so we can download it and feedback comments and adjust the app before it's launched on the App Store.
This is how the App is looking now just before we launch. It's all moved on so much and we're delighted with how our vision has been realised by the great people we've found to work with.
Please feel free to contact Soccerpots (contactus@soccerpots.co.uk) if you want to find out more or get in touch with us. We are very excited to be launching soon, so please keep checking the website for updates.
December 19th 2020 – Live date!!!!
We finally launch the app and its available for download on Google and Apple. Links to the App can be found on this page of our website !
If you want to find out more about SoccerPots check out our blogs.