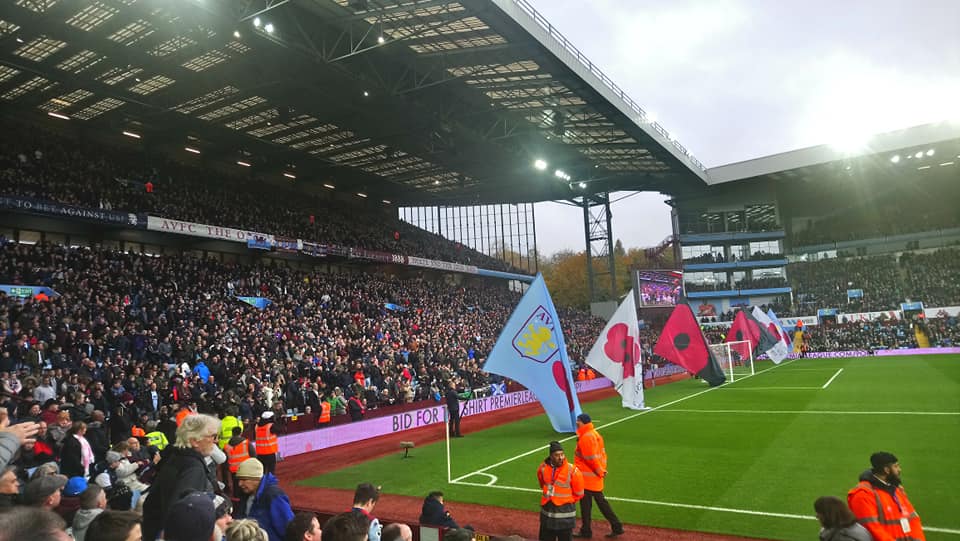 A brief history and some things to know about Aston Villa. Additions, corrections and contributions welcome. If you have an article you'd like to post about Aston Villa then we'd be delighted to put it on our website. You can e-mail us here.
Where is Aston Villa located?
Aston Villa is located in Aston in Birmingham. It is located next to Aston Hall – a seventeenth century red brick mansion built between 1618 and 1635 for Sir Thomas Holte.
A brief history of Aston Villa
Aston Villa was founded in 1874 by members of The Villa Cross Wesleyan Chapel cricket team who wanted something to do in the winter. They are also a founding member of the Football League in 1888.
Nickname & chants
Villa are known as the 'Villans'. The misspelling is a deliberate play on words.
Any visitor to Villa Park will hear 'Holte Enders In The Sky' at regular intervals. To the tune of Ghost Riders In The Sky , the full original chant was about fighting a Birmingham City fan but even most Villa fans only know the chorus:
'Yippie yi ooohhh
Yippie yi yaaaay
Holte Enders in the sky'
Fan video from the back of the Holte End on You Tube
Badge and kit
A rampant lion with the club motto 'Prepared'. Villa play in claret and blue and were the original team to wear these colours (later adopted by other clubs such as West Ham United and Burnley).
Rivals
Aston Villa have a close rivalry with Birmingham City located about 3 miles away. The teams have been playing the 'second city derby' since 1879. Many fans will also point to the rivalry with West Bromwich Albion (4 miles away) as being more relevant as the club is considered closer in terms of size and more regularly in the same division as Villa.
Owners
Villa are owned by NSWE group, an Egyptian company owned by the Egyptian billionaire Nassef Sawiris and the American billionaire Wes Edens.
Ground
In 1897, the year Villa won The Double, they moved into the Aston Lower Grounds and supporters used the name "Villa Park". Villa have played here ever since.
It has hosted 55 FA Cup semi-finals and 16 England internationals (the first English ground to host internationals in 3 centuries). The club have planning permission to increase the current capacity from 43k to 51k (by 'filling in' two corners of the ground in the North Stand).
Training
Villa train at Bodymoor Heath near Kingsbury in north Warwickshire.
Trophies
League Titles
First Division / Premier League 7
Champions:
Second Division / First Division / Championship: 2
Champions:
Play-off Winners:
Third Division / Second Division / League One: 1
Champions:
Cups
FA Cup: 7
Winners:
League Cup / EFL Cup: 5
Winners:
FA Charity Shield / FA Community Shield: 1
Winners:
European Cup / UEFA Champions League: 1
Winners:
European Super Cup / UEFA Super Cup: 1
Winners:
Intertoto Cup: 1
Winners:
Ticket information
Dues to the current Coronavirus pandemic the ticket office is closed
Travel information
Villa Park is within easy walking distance of Aston and Witton Lane train stations. Parking restrictions apply close to the ground on match days but there are numerous car parks available.
This section on the Villa website has details relating to parking, travel and planning your journey.
Mascots
A family of lions – Hercules, Bella and Chip.
Aston Villa Fixtures & results
Aston Villa fixtures & results are available on the links below: